Good attendance at school is the most fundamental requirement for a successful education
Expectations
The school expects students to attend regularly as there is a clear link between good attendance and high achievement.
Regular attendance is defined by HM Government as 96% or above, which is equal to no more than 7 schools day absences each academic year.
Impact of School Absence
Research shows that with every extra day of school missed a child's chances of achieving 5 or more good GCSEs or equivalent at grades including in English and mathematics is lowered.
Children missing a week of school are 2.2 times less likely to achieve 5 or more good GCSEs or equivalent at grades including in English and mathematics and 4.7 times less likely to achieve the gold standard English Baccalaureate (EBacc).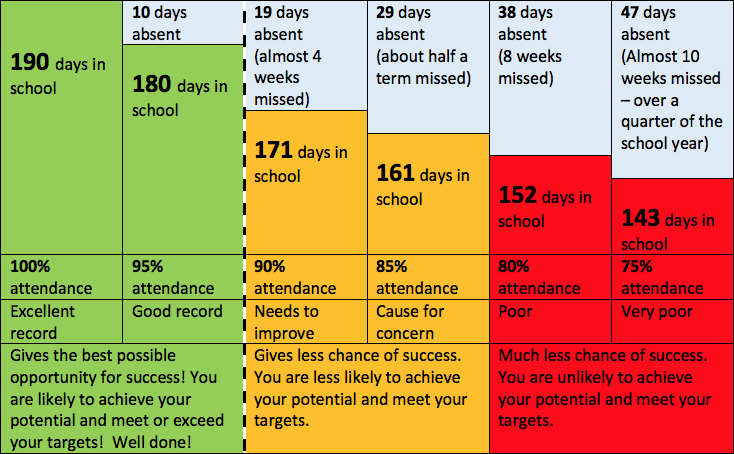 Reporting a Student Absence
Should your child not be able to attend school then it is important that the school is informed. This should be done before 0815hrs on each day of absence.
The absence should be reported by email or by telephone as shared below:
School Reception
email: [email protected]
Telephone: +357 2596 3888
Absence from School in Term Time
St John's School is committed to working with parents to help every child achieve their full potential through regular school attendance. We therefore do not expect parents to take their children out of school in term time and it should not be assumed that a request for term time absence will authorised.
The law does not grant parents an automatic right to take their child out of school during term time. Any absence from school will disrupt your child's learning. You may consider that a holiday will be educational, but your child will still miss out on the teaching that their peers receive. Children returning from a term time absence are also unprepared for the lessons which build on the teaching they have missed. Teachers then have to give more time to help individual children catch up on missed work. This poses a potential risk of the underachievement of other students in the class. This is something we all have a responsibility to avoid.
Education Welfare officer (EWO) [email protected]
Every overseas command location has an allocated Education Welfare Officer. The team sits within the Specialist Support Services branch of Defence Children Services. The service is Quad-service, supporting all Army, Navy, RAF and Civilian families overseas.
All EWOs are experienced practitioners with a range of knowledge and skills relating to education, social care, military and local authority education welfare. We are a voluntary support service, available to support children and families where any attendance related issues or concerns are raised.
ADR011514A_DCS_flet_Absence_School_Term_v2
ADR011514B_DCS_flet_Education_Wellfare_Service_V2
ADR011514C_DCS_flet_Attendance_Matters_v4
Contextual Absence
Within the military context there may be some extenuating reasons for school absence; amongst these are authorised absences for post operational leave purposes. This will be granted as per MOD Schools guidelines on request.
If you consider that your request warrants special consideration, you will need to complete a 'Leave of Absence' form in advance. A response will be sent to you as soon as possible. If the absence is not considered to be a special circumstance, and you nevertheless take your child out of school, the absence will be recorded as unauthorised.
In the case of an unauthorised absence, the Unit Welfare Officer maybe notified.
Further details regarding attendance at school can be found in the school attendance policy, a copy of which can be viewed under the policies tab of this web site.