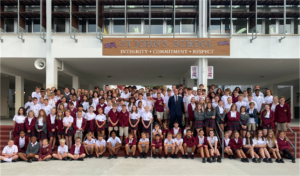 St John's is a wonderful school that overlooks the Mediterranean Sea from Episkopi in the Western Sovereign Base Area. Serving the military community in British Forces Cyprus we educate 300 students from 11 to 18 years.
As a Ministry of Defence School, we are committed to eliminating educational disadvantage caused by mobility. To this end, we aspire to provide an educational offer that is consistently 'Good' and ensure that St John's School ranks in the Top 5% of schools nationally for student progress.
Blessed with a wealth of resources, housed in excellent, well maintained accommodation we provide our students with experienced subject specialists, who teach classes that average below twenty. Behaviour is outstanding, student satisfaction in their schooling exceeds the national average and parents report that their child's experience surpasses that of their previous school. Consequently, St John's School is well placed to eliminate the educational disadvantage that may otherwise be caused by mobility.
Responding to our unique setting, where student mobility is extremely high, Assessment for Learning (AFL) acts as our tool in eliminating educational disadvantage caused by mobility. Underpinning the planning of each and every lesson, AFL strategies are skilfully employed by staff to ensure gaps in a student understanding are quickly identified, then closed through differentiated activities that are carefully planned to provide bespoke levels of support and challenge in response to each child's prior educational coverage.
Complementing our classroom provision, we aim to develop, in all of our students our key values of Integrity, Commitment and Respect. Embraced by all, we know it is these qualities that will help them be resilient, successful, and responsible in their lives whilst living in Cyprus and beyond.
With Open Mornings taking place each and every Friday, you are cordially invited to visit and I hope to see you soon.
Colin Guyton, BSc (Hons), MSc, PGCE
Headteacher