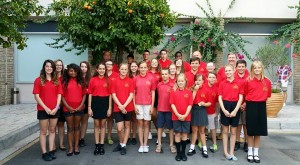 The MOD Schools Music Service was formed in the Autumn Term of 1999. The aim of this service is to make instrumental tuition available to Service children educated overseas and to provide musical opportunities that will enrich their lives and build skills for the future.
Instrumental tuition comes as a package consisting of two main elements:
Firstly, the pupil will receive small group lessons in school during the school week. All the MOD Schools Music Service staff are highly qualified instrumental specialists who will be available to teach a minimum of 30 lessons per academic year.
Secondly, after an initial period of tuition, the pupil will be expected to attend a Music School which operate at the Music Centre – in St John's School. This operates at various times during the week, outside normal school hours. It is there that the pupil will experience playing in larger bands, orchestras and other instrumental ensembles.
Tuition is primarily in woodwind, brass and stringed instruments. Should timetabling, staffing and schools permit; MOD Schools Music Service will consider applications for other instruments.
MOD Schools Music Service Instructors
| | | |
| --- | --- | --- |
| Mr J Kille BA Hons (Mus), PGCE, CT ABRSM | Head of Service | |
| Mrs Kath Millard BA (Hons), PGCE, Dip.Mus ATCL | Strings Tutor | |
| Mr Peter Betley BA (Hons), FTCL, LTCL | Brass Tutor | |
| Mrs Sue Betley GTCL (Hons), FTCL, PGCE, CT ABRSM | Woodwind Tutor | |
| Mr John Bones CME (Trinity) | Drum and Guitar Instructor | |
For further details, please visit their website.
You can contact the MOD Schools Music Service office on 2596 2409 or email the secretary: ms.secretary@modschools.org